Global Perspectives on Strong Institutions Virtual Roundtable
Join our Global Perspectives on Strong Institutions Virtual Roundtable on March 4th!
Sustainable Development Goals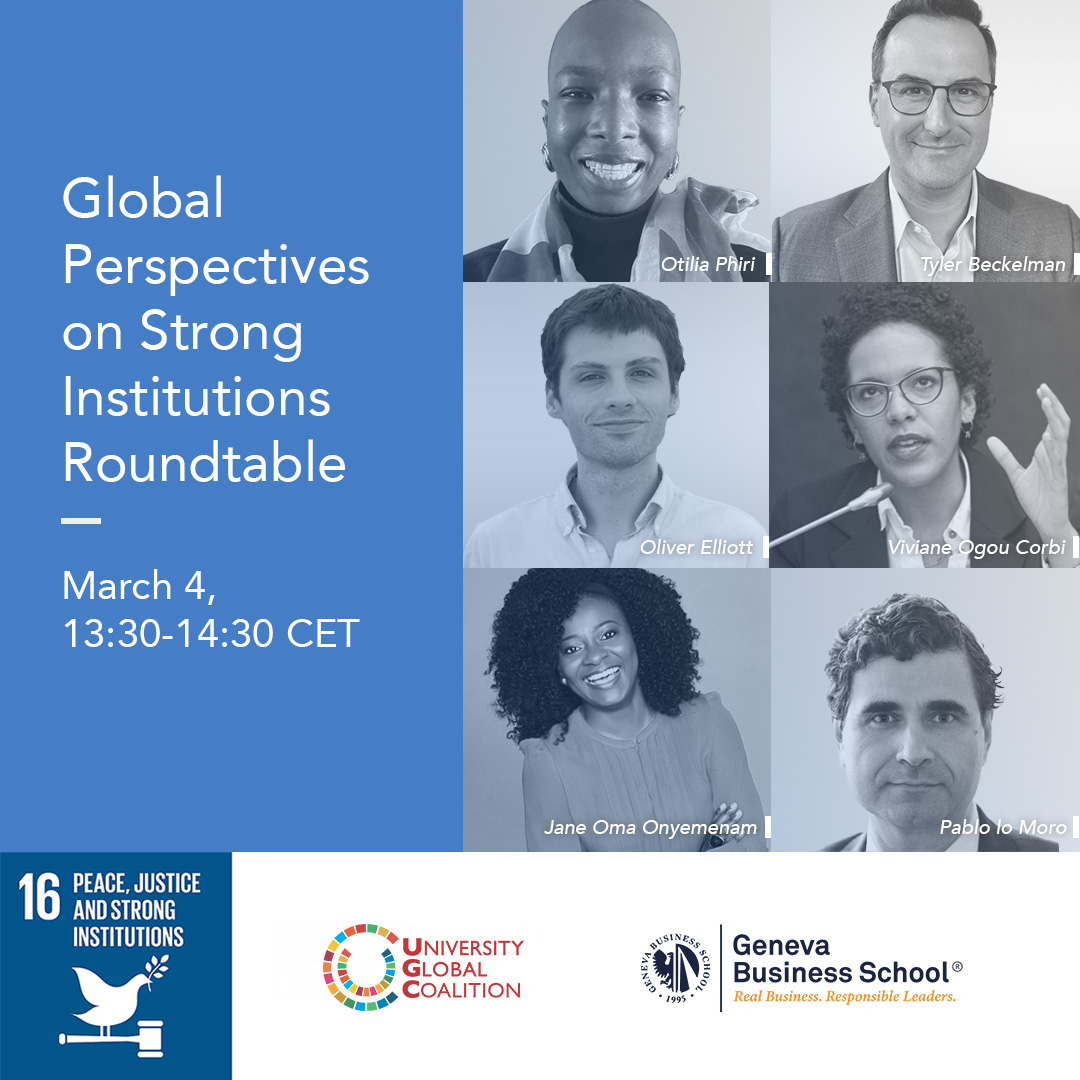 The University Global Coalition is hosting the Sustainable Development Goals Action and Awareness Week from February 28-March 4th 2022.
This is a week of free online events, open to the public, hosted individually by higher education institutions and partners all over the world, related to one or more of the SDGs outlined by the United Nations 2030 Agenda for Sustainable Development. The purpose of this week is to promote awareness of the SDGs among students in higher education and inspire them to take action related to the goals on their campuses and in their local community.
Geneva Business School has selected goal #16 (peace, justice, and strong institutions) as the topic of our virtual roundtable, moderated by faculty member Jane Oma Onyemenam. The panel will consist of experts in the field, each with diverse perspectives from all over the world.
Our confirmed panelists include:
Viviane Ogou Corbi, Specialist in EU-Africa relations and Founder/President of La Puerta de Ãfrica
Otilia Phiri, Principal Corporate Counsel, Emerging Markets, Africa, Levant & Pakistan at Microsoft
Tyler Beckelman, Director of International Partnerships at United States Institute of Peace
Dr. Oliver Elliott, Lecturer, Global Doctoral Program Manager and Head of Research at Geneva Business School
Pablo lo Moro, Multidisciplinary development professional
March 4th 2022, 13.30 – 14.30 CET
Join the panel on YouTube Live
If you would like to comment or ask a question during the event please click the link above,
otherwise feel free to watch the stream below.
#SDGWeek2022 #UniversityGlobalCoalition #SustainableDevelopment