Students Study the Case for Digital Impact in Retail
Madrid and Barcelona campuses held an online case study challenge with the theme, Digital Impact in Retail. Students worked to develop a digital retail strategy for a retail store with two physical locations. See who won here.
Barcelona and Madrid campus students help a brick-and-mortar store find digital solutions to dip in retail market during COVID-19 crisis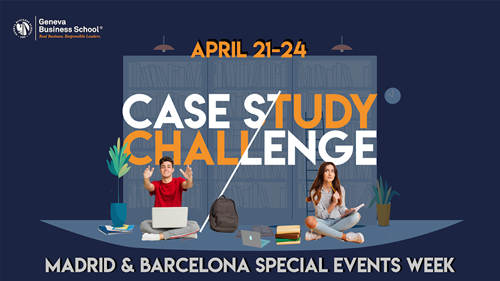 Last week Madrid and Barcelona campuses hosted an online case study challenge with the theme, Digital Impact in Retail. In teams, the students worked with campus facilitators to develop a digital retail strategy for a retail store with two physical locations.
Based in Glasgow, Scotland, Noah Home and Gifts Ltd. comprises two brick-and-mortar stores in large shopping malls. The business had established a digital presence and was looking to develop a digital marketing strategy that could help them grow their online sales, in order to survive in these times of uncertainty due to COVID-19.
Owner and Proprietor of Noah Home and Gifts Ltd., Nicola Marshall has a small family-owned (and very successful) brick-and-mortar business but needed to develop her online presence due to lower sales during the coronavirus crisis. The immediate issue was to drive traffic toward her new Shopify e-commerce site by implementing a digital retail strategy.
This type of project is valuable for both parties, solving real-life issues for a real business helps the students learn how to be realistic, creative, and work together with the client. For Nicola it was perfect timing and has really helped boost her business when she needed it most, here is what she had to say about the experience:
Thanks again to all of you and the students. I have thoroughly enjoyed the experience and have so much to take away from it. At a time when I could be feeling low and anxious about the future of our business, I am actually feeling really positive and excited
All the students submitted thoughtful proposals and showed maturity in the way they worked on this project. They were incredibly empathetic to the situation and effectively pitched solutions that suited the nature of the business, whilst being realistic about what Nicola could achieve. Nicola generously shared the reality she is facing with her business and her honesty created a valuable learning experience for the students, having first-hand insight into the trials of a real business, especially during a particularly tough moment in brick-and-mortar retail.
During our Spring Special Events Week, 21-24 April, students competed in this challenge in exchange for 1 ECTS credit, with some great prizes also going to the winning team. Students were required to research and write a case study over three days, consulting with the business owner and their campus facilitators as they researched the case. The project was a great way for the students to put their bright ideas to the test in a real-world scenario whilst gaining consultancy experience, and developing their professional portfolio.
Eight teams from Barcelona and Madrid competed against each other for the prize of a business conference or case study competition entrance of their choice. The winning team of Slahde Seale, Eduardo Salazar, and Zeinabou Bunji took out the top prize for an excellent proposal and business pitch for Nicola's online store.
Congratulations to all participants on a very successful challenge and a big thank you to Jennifer Hutchison, Hector J. Martin Sampedro, Jessie Brechin, and Roberta Giannini for facilitating the event and all their help.
#RealBusiness #ResponsibleLeaders #GenevaBusinessSchool
Your future in Digital Marketing starts with us, find out about our Digital Marketing Specialization at bachelor's, master's and MBA level.