Geneva Business School partners with BIWPA
This week on the Barcelona Campus we signed a new partnership with the Barcelona International Water Polo Academy (BIWPA).
Taking the Plunge into Tertiary Education
This week on the Barcelona Campus we signed a new partnership with the Barcelona International Water Polo Academy (BIWPA). Geneva Business School is proud to join forces with BIWPA to provide its athletes with tailored bachelor's programs to work around their rigorous training schedules.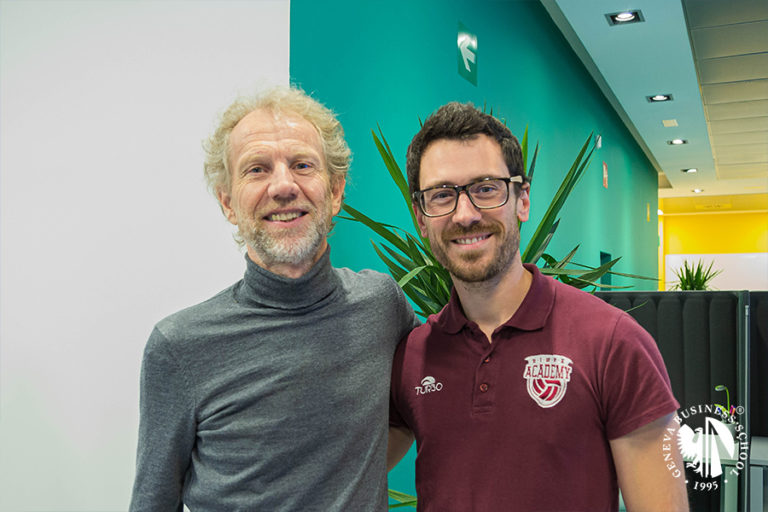 Diving in: The Geneva Business School and BIWPA partnership will provide Swiss-quality education to high-level water polo athletes in Barcelona. Barcelona Faculty member Professor Frank Hendrickx and BIWPA Academy Director Aleix Clavall Garcia.
BIWPA is an international water polo academy based in Barcelona, Spain, that combines high-performance water polo and academic studies for athletes from different parts of the world.
 BIWPA also offers team training camps, events and tournaments, water polo camps, and courses for coaches.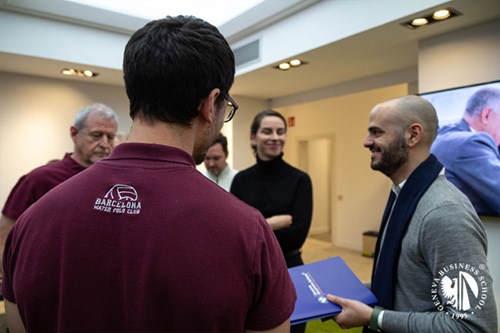 BIWPA and Geneva Business School met this week on our new campus!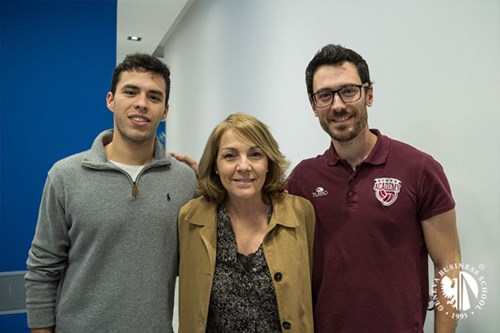 Left to right: Communications Manager Martí Cercavins, Founder and General Manager of BIWPA Cristina Marín, and Academy Director Aleix Clavall Garcia.
This Academy offers a unique experience for players from all over the world to carry on with their education in Barcelona and play in one of the most challenging age group competitions in the world. It hosts a program for high school athletes (14-18-year-olds) and a gap year option, for those athletes who want to take a break between high school and college. This is an opportunity to focus on water polo, learn Spanish, and get to know the city and the culture.
With this partnership deal, the BIWPA Academy opens its doors to all passionate water polo players looking to elevate their game with a high-performance water polo program, combining it with a Swiss-quality business education. They can now offer their students a Bachelor of International Management degree in partnership with Geneva Business School.
Academic Dean Dr. Roy Mouawad is tailoring BIWPA student programs so that students can study on the Barcelona campus from 14:00 to 18:00, allowing them the mornings for training, lunch, and Spanish classes. When they have to travel or change their schedule for competitions, the school will accommodate accordingly.
Earlier this week, at the Geneva Business School Barcelona Campus we signed the agreement with BIWPA Sports Director Quim Colet and celebrated the deal with a toast to our new friends and partners. General Manager of BIWPA Cristina Marin explained the grueling paces a water polo athlete goes through and the importance of managing their schooling with a tough training program and season of competitions.
We look forward to meeting our first students from the Academy and wish them every success in the pool and on campus!