Industry Insights – Mary Mayenfis-Tobin
Join the webinar in person in the Geneva Auditorium or watch it online!
Business and Human Rights: Why should I care?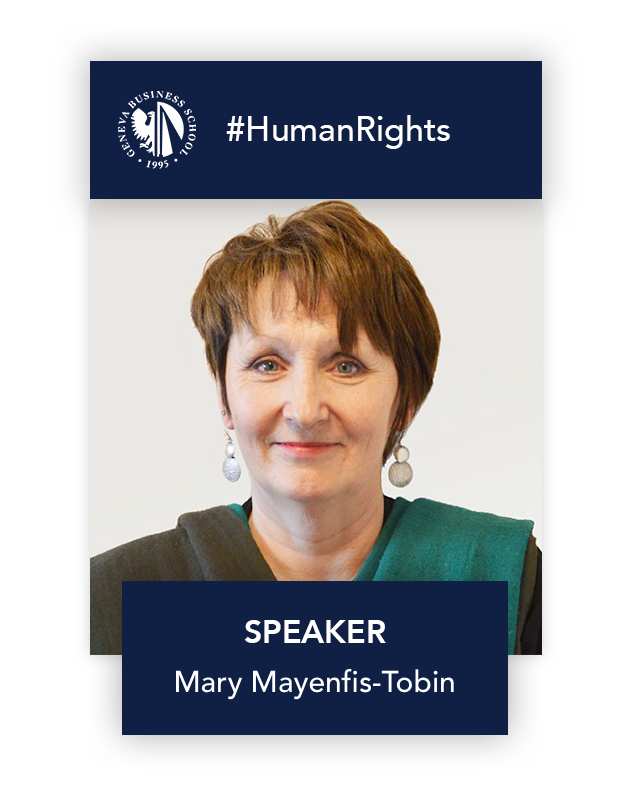 Guest Speaker: Mary Mayenfis-Tobin

Mary Mayenfisch-Tobin, has been a legal lobbyist with the Swiss Amnesty International Business and Human Rights group since 2005, she has seen the twists and turns that have taken place in this very important area where business and human rights intersect.
Today, many multinational corporations are more powerful than the countries they operate in, however, not all companies and/or governments take this responsibility seriously – the inequality of our world proves this clearly. Because of this, international and national efforts are underway to ensure that such power and influence is met with correct responsible business behavior. Amnesty International, a highly respected human rights organization, sums it up when they state that 'wherever business goes human rights were there first'.
In 1999, at the Annual Meeting of the World Economic Forum in Davos, Switzerland, United Nations Secretary-General Kofi Annan challenged world business leaders 'to give a human face to the global market' – and the worldwide discussion on the national and transnational regulation of business in a global marketplace, began.
In 2011, the UN Human Rights Council endorsed the UN Guiding Principles (the Ruggie Principles) and in the same resolution, the UN Human Rights Council established the UN Working Group on Business and Human rights. This work is ongoing…
Join Mary as she speaks from her vast experience in the field and answers questions related to International Relations, Human Rights Organisations, and the guiding principles for business when it comes to human rights.
About the Speaker
Mary Mayenfis-Tobin is an Irish Lawyer, who studied in both Ireland and Switzerland, formerly a law professor at Ecole Hôtelière de Lausanne, Swiss Program Director and professor at Pepperdine University, Lausanne, head of Stakeholder Relations & Student Counsellor Business School Lausanne, currently University Guidance Counsellor at College Champittet, Lausanne and independent advisor on Business and Human Rights & Education. Mayenfisch-Tobin has been a legal lobbyist for the Swiss Amnesty Business and Human Rights group, Berne since 2005. She initiated the Platform for Business and Human Rights located at the University of Lausanne and cooperates with Professor Andreas Ziegler, University of Lausanne, Switzerland. She is a team member of the Robert F Kennedy Human Rights Foundation, Zurich.
Former president and current committee member of CLAFV an umbrella association which represents 35 women's associations in the Canton of Vaud, an elected member of the CCCE (Commission Cantonale Consultative de l'Égalité) which works with the Bureau of Equality, Vaud, and a member of the committee of Politiciennes.ch working with women politicians based in Vaud, Switzerland. Former president of Business and Professional Women, Lausanne (2010-2014), she is a committee member of CH2021, a Swiss platform for information and networking.