Leadership Development Week: Digital Transformation and Soft Skills
Master's students learned about the hard and soft skills needed to succeed
Leadership Development Week Review – Fall 2021
Twice each semester, the community of Master-level students at Geneva Business School come together for an intensive week of group work, case studies, networking, and collaboration with personalized coaching and mentoring from our professional faculty members. The Leadership Development weeks feature core classes, and live events, featuring guest speakers, where students can benefit from the broad perspectives they find from the experienced professionals who share their career experience and deep knowledge in their area of expertise.
During the Fall semester Leadership Development Week, we had the opportunity to have
Alberto Alonso
, Founder, and Co-CEO of BMIND, share valuable insights to 36 master's students about the current state of marketing technologies and how the digital transformation of marketing helps brands to deliver more personalized experiences to their customers. Alongside Alberto, we also had the honor of hearing from
German Navarro
, who shared his start-up experience and leadership insight as the founder of ECC Electric Car Convert.
Alberto Alonso is the Founder and Co-CEO of BMIND. The company was founded in 2015, and they are the leading Consulting Company specialized in MadTech, integrating Marketing, Advertising, and Technologies with coverage in Spain, Portugal, Europe, and Latam. They handle projects of Corporate Digital Transformation, Big Data, Programmatic Buying, Data Management Platforms, Data Visualization, Marketing Automation, etc.
During his presentation, Alonso talked about the importance of data-driven marketing and how new marketing technologies can help companies to optimize the user experience. Omnichannel data plays a crucial role in the digital transformation of a company. He explained to the students the vision for modern marketing is "to connect the brands to their consumers and take every single consumer on a journey from unknown to known to in the moment in order to increase revenue and boost growth with one platform.â€
He went on to add that, in order to optimize the marketers' knowledge about their audiences, it is crucial to build durable proprietary data assets. To achieve this, marketers need to unify different data sources and have a 360-degree view of customers across different business units using modern marketing software solutions such as Salesforce. These types of digital tools allow the collection, analysis, and exploration of marketing data to boost communication and ultimately sales.
Barceló Hotel Group, the leading hospitality company in Spain, is one of their most successful client cases. Since 2016 BMIND has increased the efficiency of the advertising investment of Barceló six-fold, through a holistic data activation strategy & orchestration. In the end, he also showed the students the customer data collected through the booking process on the Barceló website and a demo of Salesforce Audience Studio illustrating how the data is managed and organized.
On the same day, the students were given expert insight into the soft skills and leadership qualities acquired over the course of a long career in the global multinational General Electric and the competitive automotive industry.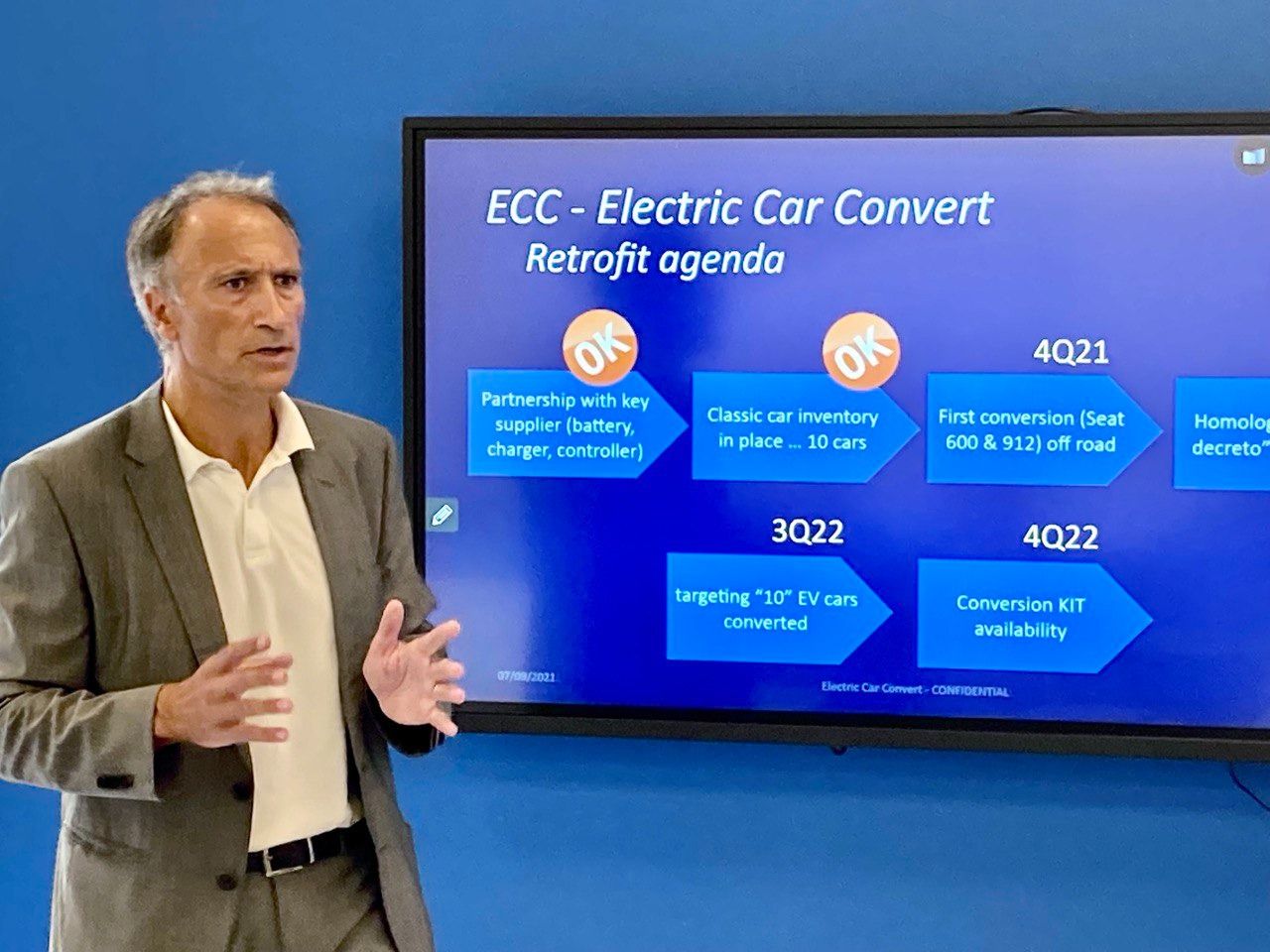 German Navarro is an experienced professional in the automotive industry and has had career experience in General Electric (GE) for 25 years. In 2020 he founded the ECC Electric Car Convert with the main objective is to "give the customers the possibility to continue driving their classic cars in the future and offer the best product in the traditional buggy market†with zero levels of carbon dioxide emissions. To achieve this goal, ECC's main job is to convert traditional cars into electric vehicles by replacing the thermal engine with an electric one while maintaining as much as possible the originality of these vehicles. With their technical expertise in-house and different partners, forming a group enthusiastic about EV, they offer a wide variety of reduced-speed electric vehicles for multiple applications (from buggies, vans, and even electric minibuses or the conversion of classic cars with a heat engine to electric).
German shared his valuable experience and some advice based on learnings over the span of his career. He emphasized what he believes is one of the most important values in life is being a person of integrity and having a strong moral compass. A successful entrepreneur must have a vision with a plan of action, a team with the right people to work with, diversity within the corporate culture, and strong adaptability skills. It is important to know the competitive advantage of the company and create quality products and services which is the best guarantee of customer loyalty and profitability. German suggests minimizing unnecessary bureaucracy to keep processes smooth and agile. He recommends not outsourcing human resource services and keeping warehouses internally. And last but not least, if you set a good example, you are effectively a good leader!
During this Leadership Development Week, our master's students learned the strategies with which to manage change effectively at the individual, team, and organizational levels in the constantly changing business world (led by faculty member Adil Qureshi). Together with Change Management courses, students were also taught about the key concepts, techniques, and best practices to support all the digital marketing processes by studying real business situations with instructor Francisco Rosique. This case-based learning allows students to develop skills in analyzing practical digital and social media marketing problems and formulating appropriate solutions to deal with them.
At the end of Leadership Development Week, the students were challenged by Instructor
Antoine Delmas
to create a final project where they had to develop and propose new business models for Zara to improve their Sustainability Strategy. In groups, the students were required to discuss and identify needs for the change within the organization and come up with creative ideas of a digital marketing proposal to promote the "new Zaraâ€. We cannot wait to see what they come up with, stay tuned for updates in our
Newsroom
.
Congratulations to all our new Master's students for completing your first Leadership Development Week, we look forward to seeing your final projects in the coming months!