Nozama Green Pedal Powers the Circular Economy in Spain
Over the past year, Geneva Business School has been ordering supplies from Nozama Geen, who deliver on foot, electric scooter, bike, or electric motorcycle and pick up your recycling. Read all about RaaS (Recycling as a Service) here.
Nozama Green and Geneva Business School team up to reduce waste at school and educate our staff and students to be responsible consumers at home.
Nozama Green, a Barcelona based startup is making responsible consumption and recycling of everyday products as simple as placing an Amazon order. Nozama, or Amazon spelled backward, is flipping the way you consume basic daily household products on its head, using an app, the circular economy, and a bicycle.
Nozama delivers groceries ordered via their app and collects your recycling to sort at their recycling plant and sell on to become inputs for new products within a circular end-to-end service. Nozama only sells products that can be recycled so their customers have the power to consume responsibly, knowing that their purchases will not have a negative environmental impact from their daily consumption.
Since COVID-19 forced everyone indoors, Nozama's business has grown exponentially. They now service the entire Barcelona province, having started from just a small radius in the city center. This service not only addresses the need for home-delivered groceries, but also that even in a crisis we must not forget to live sustainably, being mindful of waste, and do our part for the environment.
Over the past year, Geneva Business School has been ordering supplies for our campus, office kitchen, and catering for events. Items such as tea and recyclable coffee pods, pantry staples, and cleaning products arrive weekly from Nozama, who deliver everything on foot, electric scooter, bike, or electric motorcycle and also pick up the packaging when it is used. Nozama Green then sorts and distributes the recyclable elements to recycling plants where it is used to make new items.
Social Impact plays an important role in Nozama's business model, which also collaborates with the non-profit organization #HomelessEntrepreneur. They hire homeless people in their program, so they can be active, working citizens again. These people get busy sorting recycling at the sorting center and find a great sense of pride helping the environment whilst also finding their own purpose and gaining income.
Geneva Business School is committed to building effective, accountable, and inclusive leaders who will contribute to future societies for sustainable development as part of the UN Sustainable Development goals for 2030. Aligning with small businesses like Nozama is important to show our students effective local solutions to global issues, and give them good examples of innovation and responsible leadership.
The UN's Sustainable Development Goal number 12, Responsible Consumption and Production, promotes resource and energy efficiency, sustainable infrastructure, and providing access to basic services, green jobs, and a better quality of life for everyone.
By 2030, the goal is to substantially reduce waste generation through prevention, reduction, recycling, and reusing materials. Providing ways to reduce waste, create sustainable, circular solutions and jobs for the vulnerable is what Nozama green is achieving in Barcelona.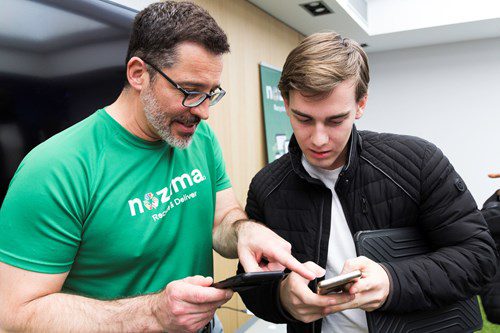 What is RaaS?
Nozama Green turns your trash into cash whilst delivering your groceries with zero carbon emissions. Recycling as a Service or RaaS, a term coined by Nozama, turns a simple everyday problem into a solution to issues faced along recycling supply chains in many cities.
Their online store functions much like any other, select your products, pay at the checkout, and await your delivery. The difference is that all containers and packaging that you buy through Nozama can and will be collected and recycled, allowing the circle of consumption to generate less waste and simplify the often complex task of separating recyclables. When they deliver your order, they ask if they can collect any recyclables that you have.
Industry Insights from Nozama Founder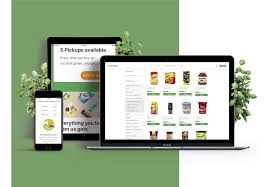 Kicking off the first Industry Insights for 2020 on our Barcelona campus, we met André Vanyi-Robin, the founder of Nozama, who kept our students engaged with his energetic and motivating public speaking style which seemed effective as the audience had lots of questions!
If you are in Barcelona and want to order your next grocery shop from Nozama, you can skip the lockdown queues and have all your recycling taken away at the same time, and be sure to tell them you are a Geneva Business School student or staff member!
Living sustainably is part of being a Responsible Leader.
Barcelona students and staff can order groceries from Nozama today!
Get the Nozama app on iTunes or Google Play