Student Spotlight: Ashley
Ashley talks to us about leaving Australia, studying a bachelor's in Geneva, and her entrepreneurial goals after graduating from Geneva Business School.
Why did you choose to study abroad?
I decided to study abroad to gain insight from new perspectives. Going to an international business school allows you to work and listen to people from all over the world and understand their experiences. Living in Australia, I felt very sheltered and clueless in regard to the rest of the world, and studying abroad has given me the opportunity to expand my exposure.
What was your motivation for applying to a business school?
I have always wanted to start my own company and felt that studying at a business school will best prepare me for the business world and equip me with the knowledge and skills required to succeed.
What made you choose Geneva Business School?
I chose to study at Geneva Business School for varying factors. The first was based on the school's location in Geneva. I really wanted to study in Switzerland, and Geneva was the best option here as I can speak French. I also loved the fact that I had the opportunity to study in Spain if I wanted to.
Another factor that played in my decision-making process was the School's focus on project-based learning. Being someone who does not strive in exam-based situations, this program allowed me to learn in a way that better suits me. I also love how diverse the campus is with students from all over the world. I was really big on gaining insight into new perspectives and I felt that Geneva Business School was very diverse.
Why did you choose your program and specialization?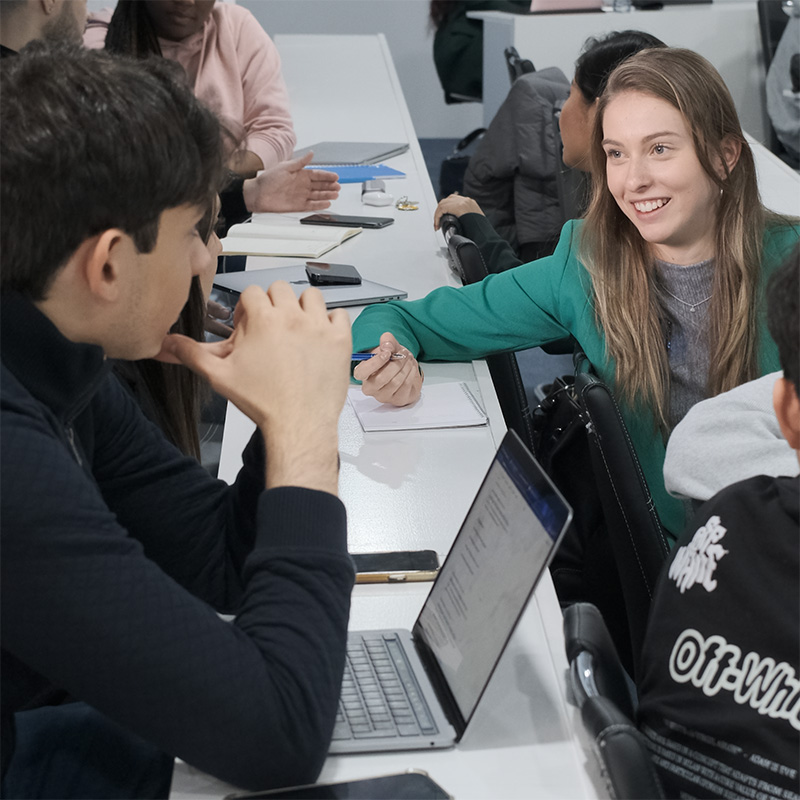 Geneva Campus Auditorium
I chose the entrepreneurship specialization as I would love to start my own business one day. I felt that this specialization would best suit me and set me up for success. I know how difficult and risky starting a business can be, so learning from instructors who have been successful entrepreneurs themselves is really making me feel confident about becoming an entrepreneur after I graduate.
Where do you see yourself in five years?
In five years' time, I am unsure where I will be. I have a few options planned out although my main objective is to have started the development of my own business.
How do you think Geneva Business School will help you achieve this?
The Geneva Business School program will teach me the ins and outs of entrepreneurship and hopefully inspire my business idea. The course will provide me with the tools and skills that I can use as I continue in the business world.
Would you recommend Geneva Business School to other students?
Yes, I would recommend Geneva Business School to other students as the intimate size of the school allows us to really get to know each other. I have loved getting to know and working together with my peers, and have been able to form strong bonds and friendships. I also think that being a part of such a diverse student body allows students to gain insight into the experiences and perspectives of those born in a completely different country.