The Future of Everything
Join Jason Silva on a mind-blowing journey into the future of technology, of imagination, of humanity.
The Future of Everything
What is the future of everything? Technology is upending the world. Acceleration is the new normal… disruption has gone mainstream. There is a sense of vertigo and disorientation. Jobs may become obsolete. Artificial intelligence is superseding human capacities. Pandemics are wreaking havoc. Biology is becoming a programmable medium. Anxiety is running high. Mental health is in turmoil. These are Mind-blowing transformations — and humans don't like change. How to respond? How do we leverage these exponentially emerging technologies to impact the world in a positive way? Furthermore — what is the mindset, the CREATIVITY, the consciousness required to thrive in the 21st century?
Positive psychologists tell us "the cave we fear holds the treasure we seekâ€. It turns out, moving past our comfort zones is cognitively beneficial. Blowing our minds boosts cognitive flexibility. We become more resilient. More creative. More adaptable. Amidst this global pandemic, Education is as important now as it's ever been, informational literacy, an ability to identify the signal in the noise, and filter misinformation become a crucial skill for navigating the 21st century. Online learning and in-person interaction continue to be critical. Join
Jason Silva
on a mind-blowing journey into the future of technology, of imagination, of humanity.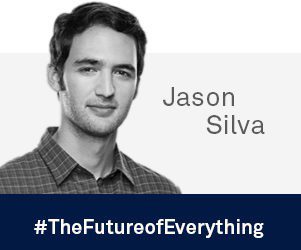 About the Speaker
Digital filmmaker and futurist, Jason Silva is the Emmy-nominated host of National Geographic Channel's Emmy-nominated, international hit TV series, Brain Games, seen in over 161 countries for over 5 seasons.
"A Timothy Leary of the Viral Video Age†was how The Atlantic described television personality, filmmaker and philosopher Silva, who has also been described as "part Timothy Leary, part Ray Kurzweil, and part Neo from 'The Matrix.'â€
Silva is the creator of the original series SHOTS OF AWE, short films exploring the human condition, with topics ranging from creativity, technology and innovation, to imagination, consciousness, and much more. In short: Philosophy, Science, and Art for the Millennial generation.
The videos, which "play like movie trailers for ideas,†according to The Atlantic, have spread like wildfire across the internet and have been viewed more than 500 million times across platforms like Facebook and YouTube and Instagram.
Influencers such as Ron Howard, Richard Branson, Leonardo Dicaprio, Tribeca Films Co-founder Jane Rosenthal, actor Mark Ruffalo, NASA, and many others have shared Jason's videos on social media. Jason's ideas have been written about in Forbes, Indiewire, Fast Company, The Atlantic, HuffPost, Wired, and Buzzfeed. Watch highlights from an exciting interview with AOL here, here and here.
Speaking Gigs:
An active global speaker, Jason has spoken at TEDGlobal, Google, Microsoft, IBM, Intel, Adobe, CISCO, Oracle, Accenture, Electronic Arts, Honeywell, PEPSICO, Dolby, the Tribeca Film Festival, Singularity University, The Sydney Opera house, The Economist Ideas Festival, SXSW, and CANNES LIONS Festival of Creativity.