2022 Graduation Ceremonies from Geneva, Barcelona and Madrid Campuses
July was a remarkable month for Geneva Business School as we celebrated our graduating class of 2022 and their achievements.
Over the span of two weeks, we hosted two graduation ceremonies, one for the Geneva campus and a second one for our Spain campuses, Barcelona and Madrid. During the events, Bachelor, Master and DBA students were recognized for the completion of their academic journey, as well as presenting three distinction awards for outstanding thesis, academic achievement and student contribution to the community.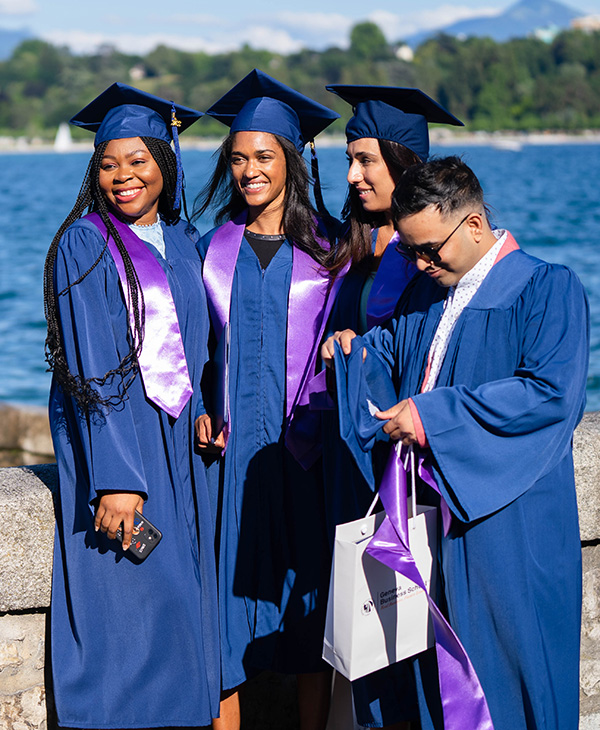 Geneva
On Friday 1 July, 2022, we welcomed family and friends to the Hotel President Wilson to commemorate the graduating students of 2022. During the ceremony, our students rose to the stage to receive their diplomas from campus directors and CEOs of Geneva Business School, Mr. Sébastien Troyon and Ms. Nicola Jackman. Our Valedictorian students, Mr. Nicky-Junior Wilson and Ms. Cristina Anna Rossi, eloquently spoke to motivate their fellow classmates to pursue their dreams, ambitions, and persist to thrive to achieve their highest potential.
During the event, we were joined by some inspiring special guests to celebrate this very special day: Mr. Noam Yaron, Swiss actor and entrepreneur, known also for swimming across the Lac Léman in record time, and Mr. Bertrand Blancheton, a growth marketing expert and digital guru.
As the ceremony concluded, it was time to begin the real celebration with a poolside cocktail event, followed by an elegant gala dinner, while a live band played amenizing the great festive mood.
Barcelona and Madrid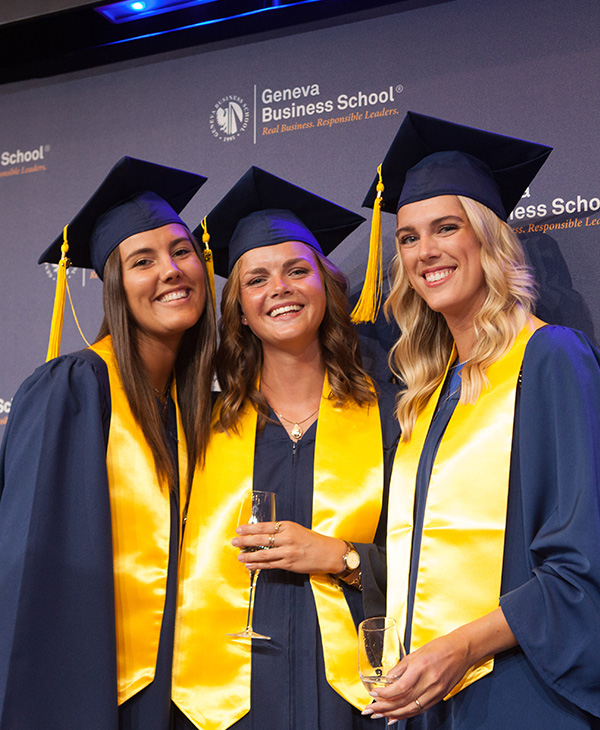 The Spanish graduation took place in Barcelona on July 8 2022. Our students took over the Spotify Camp Nou where they were graced with the presence of Pablo Carrasco, Head of Private Banking Credit Suisse Spain, Mr. Beat Kaser, Consul General of Switzerland, Mr. Emilio Marquez, Entrepreneur and Jorge Branger, one of the top voices on LinkedIn Spain.
Our Staff welcomed students, families, and friends in the Auditorium located just a stone's throw away from the famous sports venue. Our graduates walked on stage to receive diplomas and awards from the hands of Nicola Jackman, CEO Spain and Hector J. Martin Sampedro, Madrid Campus Director and Academic Dean. It was then the long-awaited moment for our 2 valedictorian students to take the microphone and deliver some truly inspiring speeches, to thank their loved ones and motivate their classmates to always aim for something big in life.
After the ceremony, we all moved to the main hallway of the Spotify Camp Nou for a delicious dinner enjoying the band performing incredible musical entertainment. Guests particularly enjoyed taking photos with the football stadium just behind.
Party was not over as all participants were invited to continue in the upstairs VIP lounge "Sala Roma" for a cocktail or more, while the DJ played a vast variety of music hits to entertain everyone.
Congratulations Class of 2022, we wish you all the best for your future.
Check out the highlights of our Graduations here: