Eduniversal Palmes of Excellence Awards for 2020
Celebrating our second year winning 3 Palmes of Excellence!
In 2020, Geneva Business School was once again awarded 3 Palmes of Excellence, at the Eduniversal 3D World Convention. This year we attended the four-day virtual conference where the theme was,
The soft skills of the now, are the hard skills of the future: Key lessons and best practices from the COVID 19 crisis.
This year's convention discussed how global education leaders sought to rethink the traditional models and create new contexts and innovative solutions to the challenges 2020 brought to our schools, specifically how the COVID-19 crisis accelerated change in the education sector.
The convention was hosted on a virtual reality platform from Laval Virtual, where attendees could create their own avatar and move around the event venue as if they were at a real-life conference. Over four days, there were plenary sessions with top speakers, interactive sessions in spaces such as the Auditorium, meeting rooms, and reception hall. Roundtables and workshops were held in the Peer-to-Peer rooms as well as private meetings. There were many opportunities for networking with peers, a group photo of the avatars on the beach, some dancing in the dance hall, and groups chatting in the reception area at the start of every day.
We inhabited the virtual 3D world where we not only accepted our award but also attended four days of the conference! Complete with networking events, meeting rooms, a beach, and dance parties, it was a fun and lively way to engage the attendees during a tough time for live events.
Geneva Business School received a 3 Palmes of Excellence Award, for the second year in a row. We accepted the award in a 3D 'Palmes of Excellence' ceremony in the virtual ballroom, where we were treated to dance breaks between each section of announcements of the awards from each geographic region.
Congratulations: Our students in Geneva with the 2020 trophy!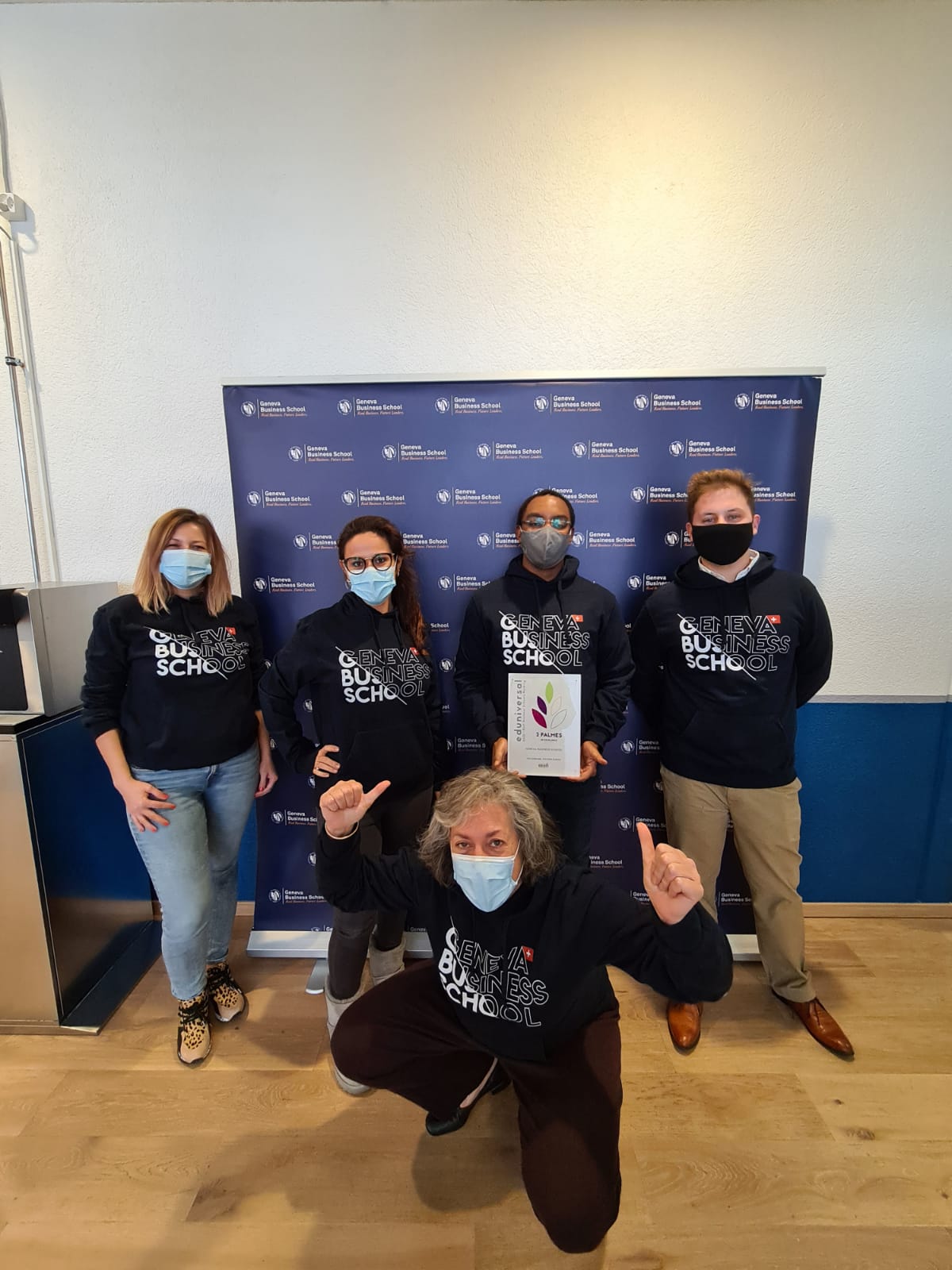 We are very proud and grateful to have been recognized two years in a row for this prestigious award and to Eduniversal for a unique experience attending the conference in 3D virtual reality.
Watch our COO, Léna Kahn accept our award on the 3D stage!
See more from the Eduniversal World Convention
#RealBusiness #Eduniversal #EWC2020