Entering the world of business via a startup
This Leadership Development Week focused on startups and market simulations
Leadership Development Week II, Spring 2021
By Shanara Lisa Marie Zunino
Master's Student
Geneva Campus
Have you ever imagined being the boss of your own company, making your own schedule, and creating your own products and services? Have you ever considered stepping into the world of entrepreneurship by creating your own start-up?
Founding a business is a task that requires a significant amount of perseverance, energy, and usually a financial investment. There are so many legal hurdles and unexpected pitfalls that can hinder the development process, to the point where many startups fall completely off the map. Up to 90% of startups fail and never make it to their 10th year (Investopedia). Reasons for this vary from limited financial means, lack of goals, to business partnerships going awry.
Tackling these complex processes was the main topic of the second Leadership Development week (LDW) of 2021, held virtually in hybrid classrooms across our campus network. During this edition of Leadership Development week, our Master's students learned about growing a successful and sustainable start-up and the required leadership skills during an intense, full-time week of workshops.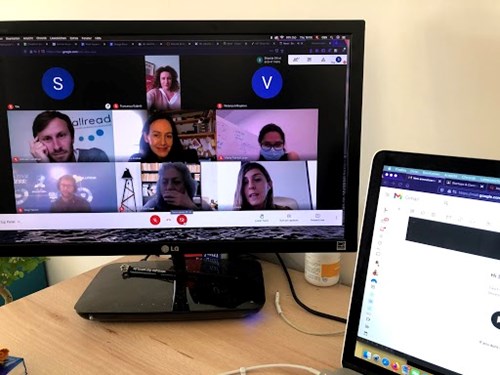 This leader development activity focused on pitfalls in first-time businesses and the best way to prepare and ultimately avoid them. One example was based around how to set up a contract with business partners and investors to prevent miscommunication and frustration down the line. Many problems can be solved by setting up clear goals and drawing up a legal document outlining the responsibilities of all parties involved so the business can be successful.
One highlight of this LDW was participating in a start-up simulation on MIT Management CleanStart where Master students managed a fresh start-up. In this simulation, you remunerate employees (not necessarily with traditional funds but with stock, shares, or options), secure financial investors, and make deals where you sell shares in the company.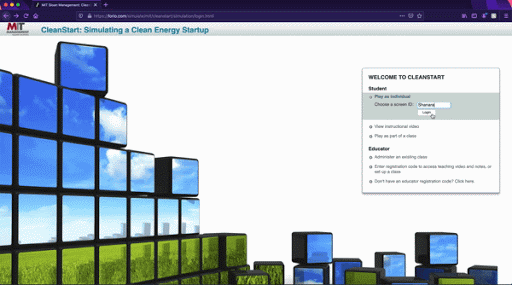 An entire panel of extremely diverse entrepreneurs and exclusive guest speakers came together, introduced their start-ups, and shared their challenges, particularly during this COVID-19 era. Their fields varied from Real Estate, Bioinformatics, and Molecular Modeling, Machine Learning Technologies to 3D Avatar creations for decentralized virtual worlds.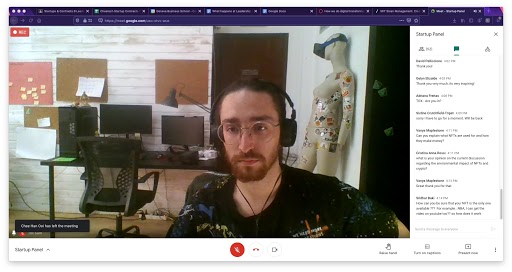 Our Speakers
Meet the successful entrepreneurs from this Leadership Development program and take a look at how they built their own startups and small businesses in a variety of industries.
Rebeca Perez a young CEO and Founder of her company called Inviertis, a real estate marketplace for properties that already have tenants. On their platform you can buy and sell properties that are already profitable. What started as a platform to sell and buy, turned fast into a platform to manage and monitor the real estate profitability.
Maria Fatima Lucas a scientist by trade, founded nearly five years ago his company Zymvol. ZYMVOL is a biotech company specialized in the design, development and application of molecular modeling software to enzyme discovery and optimization. A highly scientific field where the clients are mostly Pharmaceutical companies.
Adriaan Landman, the COO and Co-founder of his Startup AllRead MLT. A tech company specialized in spotting and reading alphanumeric text in operational environments. A technical description of high functioning deep learning software to analyse and track images of everything from trucks, planes and trains and create data for the logistic sector.
Francesca Gabetti a CO-founder and CEO created her Startup named TeamEQ six years ago. TeamEQ is a SaaS Predictive Team Analytic solution powered by Machine Learning that increases team's alignment, engagement and decision making at all levels of the organization. It especially helps improve performances in HR, teamwork and leadership capabilities.
An exciting speaker named A. Daniel Garcia Aranda (above), known in the crypto world as Toxsam, introduced the attendees to the world of Cryptocurrencies, NFT's (non-fungible tokens), and virtual environments with integrated market spaces like DECENTRALAND.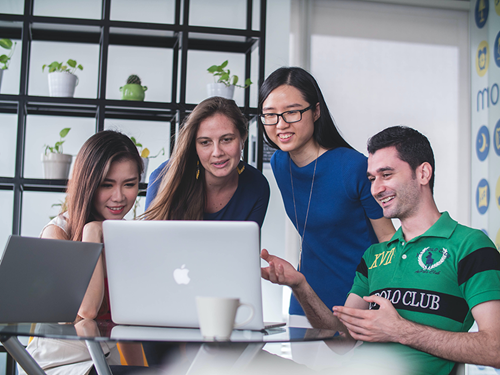 This highly educational panel gave Master students the perfect insight into the world of startups and entrepreneurship. Here they had the opportunity to ask questions in detail and take away the best practices. The best of the takeaways were:
Make sure you do your research
Set up clear goals so everyone is on the same page
Know who your target audience is
Be flexible in getting to the end
Do not quit!
"The insight into these extremely diverse Startups gives me the courage to actually consider starting my own company after my Master's Degree. There is a high potential to thrive in and be successful. This panel is the perfect example of that.â€, said one of our participants Shanara Zunino. But our Master's students' involvement in this topic does not end with this highly intense Leadership Development week. Now the real work begins!
In groups, students go through a simulation/roleplay experiment where each student has been given a persona, either as a Founder, a Technician, or an Investor. They have to work together and negotiate a deal in their own best interest but still ensure that the newly founded company can survive at least four years.
In exactly six weeks, the roleplay experiment ends, and all groups have to present their results to a tribunal. Showcasing their personally devised strategies and demonstrating how well they adapted their practices and the advice from our speakers and instructors. We wish all participants good luck in the coming weeks and happy bartering!
Want to know more about our Master's Programs?
Find out more here or watch one of our Master's Students, Noah Busker talk about his experience and motivation for joining the Master of International Management Program at Geneva Business School in Geneva.