Geneva Business School Celebrates 25 Years
This year we celebrate our 25th year of Swiss quality innovative business education and our global network of campuses, students and alumni.
As Geneva Business School reaches its milestone 25th year, we take a look back at the history of the school and how it has adapted to the constantly changing world of business.
In 1995 the world was a very different place. The Internet was in its infancy and business was yet to truly embrace the potential it possessed to connect industry across the globe.
Fast forward to 2020 and Geneva Business School has proliferated into a thriving higher education institution with a global network of state-of-the-art, interactive campuses, and online programs with fast-growing plans for the future.
In the beginning, the focus was on providing training and professional development for bankers in Switzerland. Founder Professor Francis Kahn was approached by leading Swiss banks to create an intensive course for bank employees. The banks paid for the courses and the participants had to achieve a passing grade and owed their employers two years of fidelity after attaining their diploma.
In the early 2000s, the school developed new iterations of its offering and public persona, up until 2009 when the name Geneva Business School was made official. A focus on quality quickly led to a number of international accreditations to offer recognized degrees to its students. Over the course of the next decade, the structure of the school evolved to include undergraduate students, rising to meet the demands of a global business environment.
Professor Kahn decided to expand the business model further with his associates where each campus would be a niche institution hosting around 200 students, working with professionally active faculty members in major multinationals of prominent cities throughout Europe and other economically strong and diverse emerging business communities.
Soon, he partnered with other schools across the globe, and developed them according to the Geneva Business School model in Spain, Kazakhstan, UAE, and Myanmar.
Today Geneva Business School hosts a diverse student community and faculty with 83 nationalities across our campuses, and a proud alumni network growing with each graduation.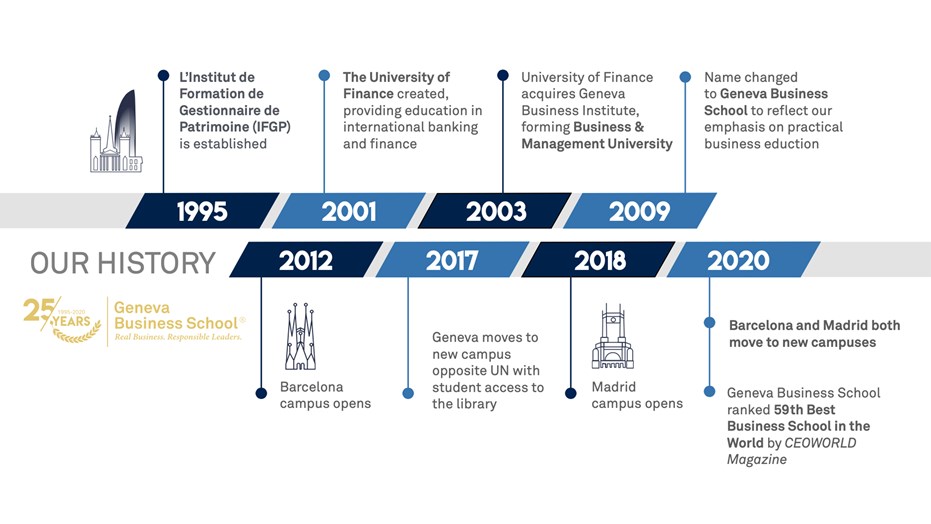 Looking Back, Moving Forward:
Reflections From Students, Faculty, and Staff…
Sixtine Crutchfield-Tripet, Student Services and Alumni Coordinator
on Leadership:
As an alumna of IFGP, I am proud to still be involved today. I have watched the institution grow and have benefitted from Prof Kahn's teaching but also he has been a valued example when solving the many life challenges we all have to face. He is one of the smartest, kindest and most open-minded visionaries I know.
Amy Lee (FCPA, MBA), the first DBA candidate in Australia on Distance Learning:
My online learning experience with Geneva Business School is like having a tennis moment with Roger Federer. The information given by the school is precise, the learning materials are current and the concepts put forward are contemporary, making my DBA delivery an effortless process. With this kind of A-Class support, I'm confident I'll ace in my thesis research as well.
Mahmoud Hagrass, 2019 graduate and owner of Sana Vida Restaurants on Entrepreneurship:
Not only when it comes to your future and just working in general but I think especially at Geneva Business School, for entrepreneurship, for people who want to go their own way, for people who have ideas and want to explore new things, I think there's no better place in Barcelona.
Nicola Jackman-Lansdowne, Spain Campus Director and Professor of International Relations on supporting the students:
What sets Geneva Business School apart is its approach to higher education and treating each student as an individual. Our concern for their well-being is a priority.
What does the future hold for Geneva Business School?
In 2020 Geneva Business School ranks 59th in the World's Best Business Schools. This year will see our campus network expand to Rome by September. We aim to open two new campuses per year and expand our partnerships to include the IT sector, import/export and deepen our entrepreneurship network.
An alumni network is being built as we celebrate Geneva Business School's 25th anniversary. By the time we celebrate our 50th, the alumni network will be established in over 50 countries creating a professional and social hub, offering a business incubator of passionate, responsible leaders in their field.
A doctorate student in Australia is championing Geneva Business School as an alternative for students to undertake tertiary studies in Europe rather than attending a university in Sydney. Combining the ubiquitous 'gap year' in Europe with studies in Geneva, Barcelona, Madrid, or Rome. Garnering interest in our unique and enriching courses might just be a mere stepping stone to the next new campus opening… Sydney 2022?
We asked our faculty 'Where do you see Geneva Business School in the future?
I think Geneva Business school's really positioning itself to be a top tier school, they are really ambitious and really doing everything they can to empower their professors so that they're ready for building the best. So we're giving students the best education that we can, building a strong reputation from the bottom up. And we'll do a solid job of putting Geneva's name on the map.
– Andrew Wong, Professor of Social Entrepreneurship and Co-Founder of Fundie Ventures
I can see it [Geneva Business School] as a trusted and respected elite Business School through a better screening of admissions and a solid program that addresses the skills required in the future global market.
– Nicola Jackman-Lansdowne, Professor of International Relations
Stay tuned for upcoming celebrations for our 25th Anniversary. Follow us on LinkedIn, Facebook, and Instagram.
If you want to find out more about your future with Geneva Business School, get in touch.