Industry Insights: 11 March 2020
Our guest speakers Xavi Bové discusses Women's Football Marketing, and André Vanyi-Robin gives us insights about Responsible Consumption in the XXIst Century
Industry Insights
Xavi will kick off the event at 14:30, before a networking break from 15:30 to 16:00. Both speakers will mingle during the pause, giving students the opportunity to ask any questions and to get to know each other. After the break, Andre's one-hour conference will round up an afternoon of cutting-edge insights and learning.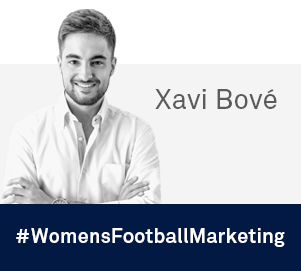 Session #1
Date & Time: 11 March 14:30 – 15:30
Where: Geneva Business School Barcelona campus, Auditorium
Topic: Women's Football Marketing – Empowering Women in Sport
In recent years, women's football has experienced significant growth on and off the field, providing unique opportunities for fans, brands, media, and professionals looking to step into the sports industry. Industry Insights will aim to deliver a global understanding of the state of the women's game from a business and marketing perspective, as well as sharing personal lessons and experiences regarding sports marketing and picking one's self to make a positive impact.
About the speaker
In the pursuit of creating meaningful brands in sports, Xavi Bové started his journey developing the marketing and commercial area at the football club Nà stic de Tarragona and, later on, he led the oldest rally in Spain, Rally Costa Brava, to sign its first-ever title sponsor.
Following a global equality movement emerging to empower women in sport, Xavi decided to be an active part of it as a Sports Marketing Consultant. He was part of the UEFA Marketing Team at UEFA Women's EURO 2017 and has worked with the Portland Thorns player and all-time top scorer for Costa Rica 'Rocky' Rodriguez, having increased her engagement by 80% and ranked her among the Top 10 New Balance Athletes with brand exposure. Xavi also collaborates with the event Fútbol Para La Igualdad (Football For Equality), where more than 900 kids have participated. For the UEFA Euro 2020, he has been appointed LOS Venue Marketing Services Manager in San Mamés, Bilbao.
As an author, Xavi Bové has written over 250 articles and 7 ebooks about women's football marketing on his blog. Furthermore, he has also collaborated with top industry media outlets as Eurosport and Mundo Deportivo, covering the FIFA Women's World Cup 2019 for the latter.
Session #2
Date & Time: 11 March 16:00 – 17:00
Topic: Responsible Consumption in the XXIst Century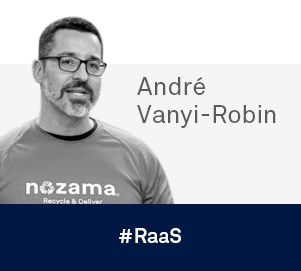 The second session of the day will be led by the founder of
Nozama
, Andre Vanyi-Robin, a dynamic entrepreneur who is leveraging his information technology and venture capital experience to build and grow and support startups. His current project is Nozama Green, a company that is dedicated to sustainable trade and takes care of the environment by collecting and recycling products that are usually used at home i.e. material like plastic, aluminum, cardboard, or glass. Nozama.Green recycles 100% of its products sold through its online store. They like to practice what they preach regarding the principles of a circular economy.
About the speaker
Mr. Andre Vanyi-Robin (President and Co-founder) is a serial entrepreneur and co-Founder & CEO of Nozama.green. Nozama.green is a London based start-up founded in June 2019 with Operational Headquarters in Barcelona. The company is transforming E-COMMERCE and the RECYCLING industry by making it sustainable with its RaaS (Recycling as a Service) Platform. (raas.green) This Barcelona based dynamic entrepreneur has always been driven by passion. André has leveraged his information technology and venture capital experience to build and grow and support startups during the last twenty years. French-Hungarian, born in New York, André graduated from the State University of New York, College at Geneseo, and pursued an MBA from the Graduate Business School of the University of Miami. Co-inventor of one US patent and co-author of the Spanish language book: "I failed, so what?â€