Innovation in Teaching & Learning Prize
Meet three teachers using smart tools to adapt to rapid change in the classroom
Student body votes for the most innovative teachers after a challenging year of hybrid learning
At the end of the Fall semester in 2020, our global student body nominated faculty from each of our campuses for a teaching innovation prize. Three award winners among the pool of nominees received the prize including
Christina Frohn
(Geneva campus) for facilitating active learning,
Dag Flachet
(Barcelona campus) for the gamification of learning, and
Ricardo Jovani
(Madrid campus), for having used Airpods as a blended learning tool.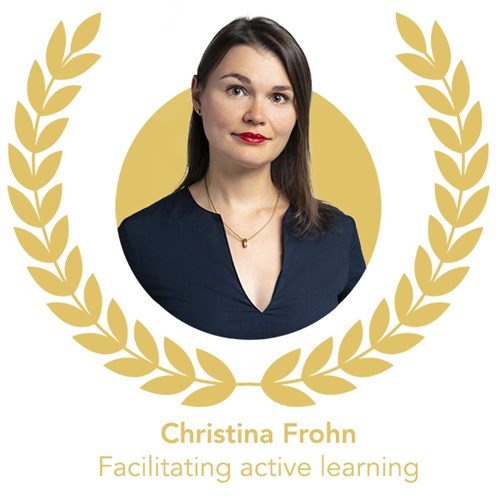 Optimized learning by doing
A student described
Christina Frohn
's ability to confidently face a challenge during her leadership as "impressiveâ€. In fact, she had a week comprising 3 hours a day in order to make a new class understand the essentials of statistics, human resource (HR) data analysis, and the impact of new technologies on HR data analysis. It was quite demanding, which is why she designed a system to optimize learning capacity.
The system consisted of a cycle that would go as follows:
One-minute recap of the previous cycle
Twenty-minute intense exposure to class material
5-minute team project on the most recent material
5-minute presentation (each team takes 1 minute)
Students had to repeat the cycle for 3 hours. In the second step, Christina would present 20 minutes of class material at a very high pace. So usually that would involve no questions and no class participation. Intense, but short enough so that the students could follow along. The efficiency of that 20 minutes allowed them to cover material fast, and to have time available to focus on the other steps of the cycle.
In order to keep the third step more dynamic, a diverse range of formats were introduced. This included a pitch escalator, online quiz, table filling, a case study, and more. Although it was a tough challenge for our students, the learning experience was uniquely enriching and this innovation in education was greatly applauded by the voters.
By the end of the week, the concepts explored in the classwork had been revisited ten times over. Congratulations to Christina Frohn for achieving the Leadership Week goals with a high standard of learning outcomes, regardless of the challenge and intensity of the week.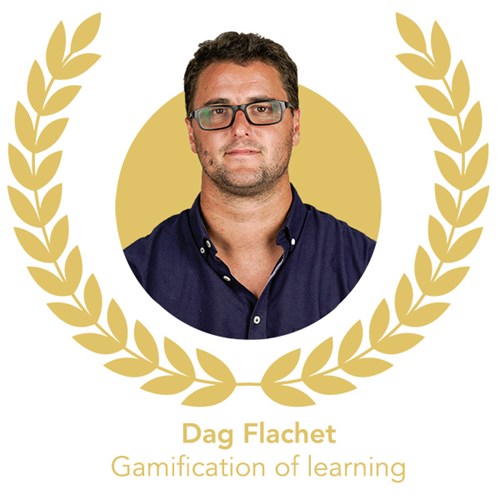 Gamification equals engaged learners
Instructor
Dag Flachet
was awarded this prize for his innovative approach to teaching using Gamification. Simply put,
gamification
of learning refers to the use of video-game elements to improve students' engagement and information retention while learning. Gamification has proven to be an
effective
teaching method in education and as the CGO of a
software development firm
, Dag has managed to leverage this tool and knows all too well how to put it to good use to engage students in his lessons.
He was applauded for setting up a counseling agency simulation that involved salaries and ranking for each student. The grading system based on salaries and ranking positions has proven to be useful as it increases student motivation and level of engagement.
It is a tool that not only allows students to learn while having fun but also to learn to aim higher in life. Dag explains that gamifying classwork teaches students about "not only having their grades on the line but their desire to win, the desire to do well, to become the CEO of their respective companies, to get good salariesâ€. He truly believes that "learning should be fun and games are fun. So if we can turn learning into a game, I think it's a win-win.†Dag's in-class games achieve fantastic learning outcomes, so we are delighted to know that our students are enjoying this trend in classroom innovation.
Learning should be fun and games are fun. So if we can turn learning into a game, I think it's a win-win.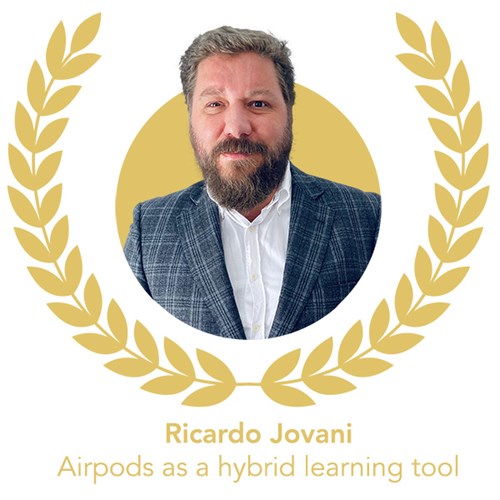 Effective listening is key to the hybrid classroom
Ricardo Jovani
, an instructor of supply chain and logistics management on our Madrid campus, won the award for his innovation in teaching for the implementation of a new technique of hybrid learning by sound. Sounds good right? Ricardo adopted the Airpods as a tool to better hear remote students in the hybrid classroom while providing the best experience for both learners.
Online students recognized an astonishing improvement in sound quality. Moreover, Ricardo didn't stop there, he stepped forward and shared his success with his fellow teachers and helped them to implement this brilliant idea that improved the sound in a variety of different classes.
We are very proud of Ricardo's willingness to innovate when unforeseen challenges arise and looking for ways of improving our students' learning experience. A small lesson that can be learned is that whatever challenges may arise, the most important is how we react and adapt to them.
Humans are
innovative
by nature and when combined with an activity that we love, in this case, our teacher's love to provide the best learning environments and experience for our students has reflected what we mean by
innovation at Geneva Business School
.
We could not be more proud of Christina, Dag, and Ricardo for winning the Innovation in Teaching & Learning Prize.
Thanks to all three of you for loving what you do and for providing the best learning experience to our students! Bravo!
Want to know more about our approach to hybrid classrooms and project-based learning?