How studying an MBA will boost your career
Meet Kamila Nazyrova MBA, a recent graduate from our Geneva Campus
Tips on studying for an MBA from a 2021 Geneva Campus Alumna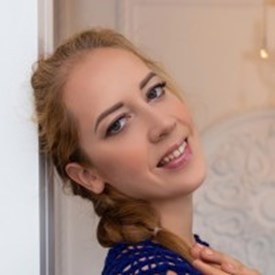 Kamila Nazyrova
was a guest speaker at
Leadership Development Week
this spring and shared her experience as a recent MBA graduate from our Geneva Campus. In February 2021, Kamila completed her MBA in Oil and Gas Management while working full time as a logistics and sales coordinator at
3M
in France.
Kamila's expertise lies in supply chain management, sales, document management, certification and PR product lines, personally taking regional responsibility for Ukraine, Azerbaijan, Kazakhstan, Turkmenistan, Uzbekistan, and Russia. Originally from Ukraine, Kamila now lives in France and undertook an MBA to grow her career by developing her leadership skills.
During her presentation she spoke of her career progression during and after completing the MBA program in Geneva:
Why did she choose an MBA?
Kamila's management actually encouraged her to do an MBA. She said, 'it gives you a key to the development of your future career and business units within a company.' Kamila then added, 'it's really important to note that an MBA gives you key development opportunities to achieve management positions in companies.' She felt it was an investment in her personal quest for lifelong learning.
What practical skills did she acquire during the program?
The interactive learning style meant new skills were built-in to the program. Interaction with your classmates mimics the same work environment in a company such as 3M. Sharing your experiences during webinars and conferences can help you find solutions to issues you face in your own situation at work.
What does it mean to be a leader?
A leader has the necessary skills and is able to think outside the box, which means that you become more than a person who is just doing her daily tasks on a daily basis, you try to understand the economic climate in your country and how it applies to your company's position, and what can be improved in your current processes?
The MBA gives you the tools to analyze, not only the broader situation of your country and your company, but yourself, you become more organized, and you spend time planning and formulating your strategy, and you become a leader in the company. When you lead it means that you have your colleagues coming up to you asking you to help them with their problems, to help them adjust processes that are not working, and they need somebody who is able to go forwards and lead them to find something that will be a solution.
How did the MBA influence her leadership skills?
Kamila believes she gained essential professional skills, such as how to be an inspiring and human leader, how to analyze real case studies, She also said she made new professional contacts all over the world which will help her in the future.
How did she manage full-time work and study?
Full-time work and study are like having two lives, the one where you live and one where you work, so it demands a lot of time management, you have to organize your schedule, from the beginning to the end. Sometimes you have a lot of online and offline meetings and sometimes you have to work weekends, and after work in the evenings, you need to find the time and space for it.
How did she manage remote learning during the pandemic?
So, there are a lot of pros to remote education, for me, because it's flexible and convenient, you can learn at your own pace, you learn at your own pace, you can take classes from anywhere. At Geneva Business School you take classes from great professors, that may not be in your own country and you meet through the camera, however they can still transmit their knowledge, they teach you the fundamentals and how you can work and give you some real tips.
You have flexible online tools for class assignments, so you can share the class assignments in a group and work at the same time on the same assignment. Like this, you can brainstorm, do some risk mapping together, collaborate, and as a remote student, I use it a lot when I need to complete a project with one of my classmates. For example, in our Logistics and Marketing class, we shared our presentation online and were speaking at the same time. It was a great experience and we got wonderful feedback from the instructor.
How did the School support remote learning?

Managing your classes online requires a lot of technology. So I think Geneva Business School provides us a great space for technology. We have access to Google classroom where you have all the online classes so that you can check the due dates for each one. And you can also speak to your classmates to finalize your projects.
It was the operational excellence that Geneva Business School provided that was very motivational and the staff provides great support. We have a WhatsApp group, we have an online community where everybody shares a little bit of everything, such as tips on how to work remotely, and giving you academic support, such as an online library, which is very important, as books are expensive, plus it's very flexible and you can download anything.
What did she like about the Geneva Campus?
You have full access to the United Nations library, I had never been there because I was not physically too much in Geneva, but I think it's a great asset to the school if you are in Geneva.
What were the common mistakes students make during an MBA?
Most often it was not paying attention to details and listening to instructions. Not asking for help when you need it, looking for tips and support from your instructors, or asking questions.
What did she like most about the experience of studying at Geneva Business School?
Many things but mainly the practice of real-world scenarios that many of us don't have otherwise. And even if we do have this practice, we can always learn more. Inspirational leaders that share their experience during online conferences and when something useful for your situation comes up you are so open to learning new things and able to get 100% benefit from it. And last but not least, making professional contacts all over the world.
At Geneva Business School, we have many nationalities, myself for example I am originally Ukrainian but living in France. I met a lot of new professional contacts during my studies. Your instructors, your classmates, everybody is working or will get a good job after school, and they share their professional contacts with you, and you never know what business you might do together in the future. Right now we are discussing a project with my former classmates that may become live in 2022 when we are cleared of the pandemic.
What were the key takeaways from her MBA?
Leadership, Interactivity, and Knowledge.
Are you a Geneva Business School Alumnus?
Check out our Alumni page
Join Our Alumni Group on Linkedin and start a conversation with your peers.
Share job opportunities, arrange local meetups, and keep your global network strong after you graduate!
Interested to know more about our MBA Program?