Mohamed El Sarrag, Co-Founder of Hotdesk
Prior to the launch of Hotdesk, we met Geneva Business School alumnus Mohamed El Sarrag to find out about his app and his recent appearance at Web Summit.
Geneva Business School alumnus,
Mohamed El Sarrag
was recently promoting his creation,
Hotdesk
at
Web Summit
, Lisbon, which marks a milestone in El Sarrag's career. This massive tech event has featured speakers as distinguished as Edward Snowden and Guo Ping and many more this year, and in previous years Stephen Hawking and Al Gore (2017) and Elon Musk (2013).
Hotdesk App is available on both iOS and Android, and you can follow them on
Instagram
,
Facebook
, and
Linkedin
. Still a young company, it has already been featured on websites such as
Startup Scene
. Its
official launch in Europe
will be at 18:00 on Wednesday 11 December on the Geneva Business School Campus, Barcelona. Attendance is open for everybody, so we hope to see you there.
We caught up with Mohamed to find out about where Hotdesk came from, and why Web Summit was such an important event.
Where did the idea of Hotdesk come from?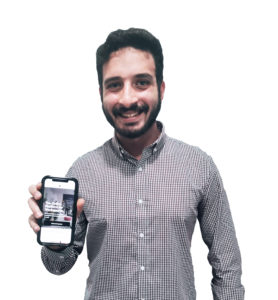 My co-founder, Mohamed Khaled, was previously employed at a tier-one consulting firm, and their work involved a lot of travel. Since they had offices in 156+ countries, finding a place to work was never a problem.
One late night working from a hotel business center, he wondered what power this global accessibility would give to freelancers and startups, and how it could change their lives. However, there was no company with the financial capabilities to build enough spaces worldwide to accommodate such large demand.
Therefore, there was one way to do it – to tap into the benefits of technology and the sharing economy, and to create a mega-platform where hosts can list their spaces that links all these places directly to people's fingertips.
Hotdesk deals with two types of hosts, which are (i) coworking spaces, and (ii) office owners/companies that have extra, unused space. Accordingly this platform can enable freelancers and startups to succeed, and significantly improve efficiency margins for hosting companies.
Tell us about one of the biggest difficulties in setting up the company.
The most difficult part about building a startup is in itself the most exciting part, because a startup has infinite possibilities to turn ideas into real-life operations. This brings with it the challenge of juggling a multitude of different areas simultaneously to get through the transition to being a successful company.
Specifically, the most challenging part was building a network of coworking spaces in multiple countries. On top of that, we had to start triggering behavioral change in how corporations think. We had to show them the need to share and monetize their unused workspaces. We also had to drive user demand by using marketing techniques to reach startups and freelancers, and show them how we could solve their workspace problems in a few clicks.
And one of the top successes…
A true moment of great success which made us appreciate all our efforts is when we reached the "market-place effect†in Cairo, Egypt.
Startup growth is exponential, meaning that it may be harder to go from two to four users than to go from 1000 to 2000.
We spent so much time and effort building our initial operations, connecting our first hosts to our first users – while closely monitoring for improvement. As this started to happen, word of mouth began to kick in. We went from having only three workspaces in Cairo to being the city's biggest coworking space network in just one week.
What is a typical work day for you?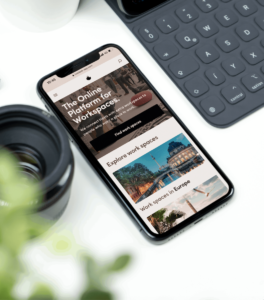 Working on a startup is very exciting and dynamic. You have to go from thinking about macro-level strategy and talking to investors, to micro-tasks like adding a post on Facebook or replying to a question on Instagram. Sometimes, you can jump out of bed on a day off and have to suddenly improvise in a spontaneous meeting. You always have to be ready.
My favorite part is that working on a startup enables me to meet people from across the world and from several industries and disciplines. All of this leads to us building meaningful professional and personal relationships.
I also love the thrill of facing new challenges and obstacles every day. Challenges are always a learning experience and they help us become better at adapting and finding innovative ways to move forward.
How was Web Summit, and how do you think it will help you in the future?
Web Summit was an amazing experience for me, for Hotdesk, and for all of our team. It's the event that Forbes called "the best technology conference on the planet†– and we were part of it.
It took place in Lisbon, Portugal, with more than 70,000 attendees from 163 countries. There were over 11,000 CEOs, over 2,500 journalists and reporters, and a vast number of venture capitalists and; not to mention speakers such as ex-NSA agent Edward Snowden and Guo Ping, the Rotating Chairman of Huawei.
The list of speakers goes on to include executives such as CTO of Amazon, Werner Vogels; CIO of Samsung, David Eun; CEO of Wikipedia, Katherine Maher; EU Commission's Chief Brexit Negotiator, Michel Barnier; and many, many more.
Hotdesk – a featured startup at Web Summit
We were very lucky to be a featured startup at Web Summit.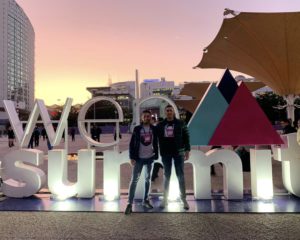 This gave us the chance to speak face-to-face to founders and managers of some of the most powerful tech companies and firms in the world. In an effort to grow within a world of opportunities, we discussed collaborations with other startups and met key personnel from many governments. We pitched our ideas to a number of investors, literally ranging from 60-second pitches in a boxing ring, to long meetings where we discussed every intricate detail.
As a result, we have some deals in the pipeline, and we'll be more than happy to share the news with the
Geneva Business School
community once we close the best deal.
If you had to choose one professional role model, who would it be and why?
It would have to be Steve Jobs. I think he's one of the few individuals of our time who truly revolutionized the world in terms of technology.
He knew how to think outside of the box, innovate, and create an unprecedented product. By unprecedented, I mean that he created products that became game changers for an entire industry. The iPhone, for example, has entirely changed how a phone looks and operates. It was the first phone ever with a full touch screen, no keypad at all, and just one button.
With MacBooks, Jobs changed the human perspective of laptops by creating the concept of a luxury computer. He saw that there was a problem with the size of music players and decided to create a music player the size of a lighter which could save up to 1000 songs. With the iPod and iTunes, he was the first person to allow individuals to carry a personalized library of music and buy and download songs legally online.
Steve Jobs was able to create a product that solves a problem for consumers or eases their lives through innovative solutions that might have seemed inaccessible or incomprehensible to others. All the while, he never lost sight of the necessity of creating fabulous and innovative designs that provide Apple users a unique customer experience.
This all went beyond innovation in technology to completely revolutionize the music industry and culture as a whole.
What is one thing you wish you knew before beginning Hotdesk?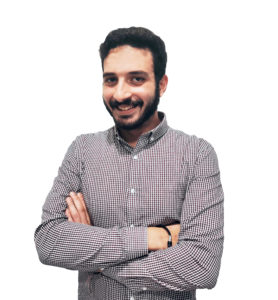 What I really needed to know before starting my business, and what I would tell any entrepreneur before starting their own business is the commitment and amount of time needed for success.
You must give 200% of your time for your business to find the kind of success you're looking for. Startups are so different than established companies, so founders need to be involved in all aspects of the business and give a lot of time to the company to make their first breakthroughs. It doesn't matter if it's day or night, a weekday or a holiday, founders must always be looking for solutions, brainstorming ideas, or strategically planning for the future.
Is there a quote you feel particularly motivates you professionally?
"When you believe, your mind will find a way to doâ€
−David J. Schwartz
To attend Hotdesk's launch event, please arrive on our Barcelona campus shortly before 18:00 on Wednesday 11 December, 2019.
Thank you, Mohamed, for sharing your time and knowledge. We wish you all the best for the future.